Life changing procedures like Implant technology, Corrective Jaw Surgery, and Facial Cosmetic Surgery are giving people full confidence to smile again. Here are some independent opinions of our patients regarding these treatments and their results.
Serge D, Rio Linda, CA
---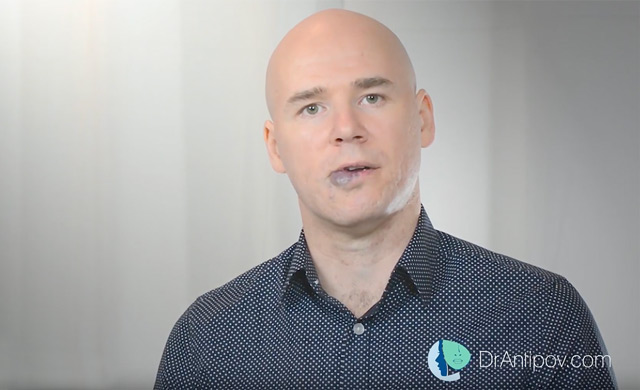 Video review: single tooth implant installed at private practice of Alexander V Antipov DDS Galleria OMS in Roseville, CA.
---
Vadim M, Antelope, CA
---
Dr. Antipov did a mole removal from my nose. I used to have a mole since birth. As I was growing up it was growing with me, which disturbed me very much. I met with Dr. Antipov and he suggested to do a small scarless surgery. I was concerned at first but when we got to it, the surgery took about 15 min, was absolutely painless, bloodless and it only took 1 week for a recovery. Now my nose looks perfect, it's fully symmetrical and there is absolutely no visible signs left. I recommend this place to everybody who has similar or the same problem I did, you will not regret it.
---
Micki M, Sacramento, CA
---
This was one of the three oral surgeons in the area which were recommended by our dentist. My son started having extreme pain caused by his wisdom teeth and this was the only place that had an immediate opening.
The office looks fairly new and is decorated with modern contemporary decor. There is even a gas fireplace and a plasma screen tv above that. The receptionist greeted us and handed us the necessary paperwork.
We were called back and they took a panoramic x-ray. We were then taken to another room and told to watch a 20 minute video explaining the procedure involved in removing wisdom teeth. My son is the typical male, he wanted to leave right then and there. He's put this off so long that it's inevitable, he's just gonna have to suck it up and get this done. After the video, we met Dr. Antipov, DDS, he was very friendly and reassuring. Like the majority of the staff here, he was of Russian decent. I'm assuming that they must get a lot of Russian patients because I heard it being spoken quite often in the office.
Dr. Antipov specializes in cosmetic and reconstructive jaw surgery. There are a number of pictures of patients' before and after who have come to him to get reconstructive jaw surgery. The transformations were absolutely amazing! They also sell Obagi' skin care and they also perform Botox and Restalyne for those unwanted wrinkles.
So after we get situated they take my son and he was put under local anesthesia and he had all four wisdom teeth extracted in a little over an hour. Dr. Antipov came out to the waiting room to tell me how it went and that my son was still asleep from the anesthesia. After awhile, a nurse took me back to see my son and gave me his prescriptions and went over all of the after care. She wheeled him out in a wheelchair to my car and we were on our way home!
---
Vadim M, Antelope, CA
---
Just want to start off by saying this office is amazing. The staff there is so sweet and helpful. I had to go in for oral surgery and I was very scared and nervous. Christina and Olga are two of the main ladies that I talked to a lot. They made me feel like they knew me forever. Then I got to meet Dr. Antipov. I was so nervous and he made me feel so comfortable and relaxed after talking to him. Best oral surgeon ever. He is clearly very knowledgeable and knows what he's doing. I know you can only give 5 stars, but if i could i would give 10. I would recommend him to anyone. He's an amazing surgeon and a very sweet man.
Thank you, Sherry Ybarra
---
Bob O, Fair Oaks, CA
---
My wife needed to get one of her wisdom teeth extracted, which she was dreading and she does have pretty high anxiety when it comes to dentists. When she got there we decided to go head and get rid of all 4 to get it over with all at once, I don't know how she agree to it but she did. Anyways all 4 were pulled out (no sedation either, she didn't want it, just some nitrous has) and she was stunned, it went by so well and quick, she and I both were amazed how well it went! She said she didn't feel any pain, it was very smooth and professionallydone! The recover process is not easy on the problem wisdom tooth which was in bad shape but the other 3 healed quickly and easily. Just follow directions and instructions when you go home for the recovery process. I wish he did regular dental work too would go to him for all of that as well too.
---
Sara P, Roseville, CA
---
I had a great experience here. I was very nervous to get my wisdom teeth out and was not sure whether they needed to come out of not. They were not pressing up against the others but there were other possible complications that the surgeon explained in detail before leaving my husband and I alone to discuss whether it was the right thing for me. Whether I wanted to wait and see if there was an issue in the future or be more preventative.
I was impressed with the professionalism of the staff. They were very nice, and helpful. Not pushy and worked with us to even come up with a workable payment plan to cover the cost.
The atmosphere was very clean and it was nice environment. Everything went very smoothly. They called me a week later to see how I was doing and the follow up check up was quick and thorough. I picked this place based on the raving Yelp reviews and I am happy to say it did not disappoint. I would recommend them to anyone.
---
Jennifer S, Roseville, CA
---
Up until recently, I thought I was going to be one of those fortunate people who would never have to have their wisdom teeth extracted. Well, guess what...I was wrong! I started having horrible pain with my two bottom wisdom teeth, one of them actually cracked in half. After my dentist determined that I needed my wisdom teeth extracted asap because they were infected, I was referred to Dr. Antipov's office, I called on a Friday afternoon, I was in horrible pain and on Vicodin to try and easy the effects of the infection. I was able to get an appt quickly and ended up spending my 29th birthday at Dr. Antipov's office having my wisdom teeth removed. Due to the severity of the situation, they did both my initial evaulation and surgery on the same day. The staff here is amazing, everyone was so friendly and kind. The surgery went very smoothly, they even called me afterwards to see how I was doing. Definitely a positive experience with the professional and experienced staff at Dr. Antipov's office.
---