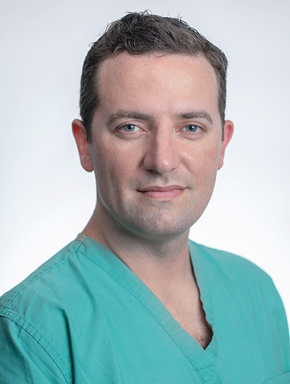 Dr. Kevin Furmanek has recently joined Galleria Oral and Maxillofacial Surgery. We were meticulous in our efforts to find someone of integrity who possesses the skills and knowledge needed to give our patients the outstanding service they deserve, every time.
Dr. Furmanek was born and raised in Roseville, CA and graduated from Granite Bay High School. His love for the greater Sacramento area prompted him to stay close to home and earn his Bachelor of Science degree in Neurobiology, Physiology, and Behavior at the University of California, Davis. After graduation, he moved to New York City where he earned his Doctor of Dental Surgery from Columbia University, College of Dental Medicine. Graduating near the top of his class, he was inducted into the Omicron Kappa Upsilon honor society while also earning the American Association of Oral and Maxillofacial Surgery Award and the Exemplary Professional Conduct Award from the New York Academy of Dentistry.
After graduating from dental school he stayed on the east coast to pursue advanced training in oral and maxillofacial surgery at New York Presbyterian Hospital, perennially ranked as the #1 hospital in NY State and #5 in the nation in 2019. During his six years of training he learned from experts in dental implantology, orthognathic surgery, cleft lip and palate, and maxillofacial pathology, reconstruction, and trauma. He also earned a medical degree from Columbia University, College of Physicians and Surgeons and completed an internship in General Surgery. During his final year of training he served as Chief Resident in Oral and Maxillofacial Surgery at New York Presbyterian Hospital.
Although Dr. Furmanek has gained a large breadth of medical and dental knowledge, his greatest interest lies in dental implants and maxillofacial reconstruction, orthognathic surgery, sleep apnea, the temporomandibular joint, facial cosmetics, and maxillofacial pathology.
Dr. Furmanek takes pride in delivering patient-centered care with a gentle touch, empathy, and humility. Together with his excellent surgical skills and compassionate chairside manner Kevin is beyond excited to return home and serve patients throughout the greater Sacramento area.
Dr. Antipov knows how personal and important these procedures are to every patient. He and his staff take special pride in providing the highest quality surgical skills and the most sensitive patient care.